I. Introduction
The coconut is a member of the palm tree family. The term "coconut" can refer to the whole coconut palm, the seed, or the fruit, which botanically is a drupe, not a nut. The name comes from the old Portuguese word coco, meaning "head" or "skull", as the three eyes resembles the facial features.
Coconuts are known for their diverse nutritional and medical values since time immemorial. Filled with maximum nutritional values what human needs to protect his body from diseases, it is also called as a Fruit of Life.
II. Vietnamese coconut
Viet Nam is one of EIGHT leading coconut planters, producers and exporters in the world. Coconut is grown widely in Ben Tre,Tra Vinh province.
Ben Tre, the last island to receive the silt of the Mekong before flowing into the sea, the brackish water with clay mud (fertile, rich in humus, and many good antibacterial) has created favorable conditions for coconut plantation Ben Tre like putting on a green, distinct coconut flavor and fruit yield is also higher than other regions.
Ben Tre owns the largest coconut growing area in the country, over 70,000 hectares of coconut (44% national coconut area). It takes more than 40% of the total coconut production in the country. This province was known as the Coconut Kingdom of Mekong Delta.
In Ben Tre, there are hundred-year-old coconut gardens that tell the historical story of the coconut typical tradition of people here. Coconut trees and Ben Tre farmers stick together for generations, coconut is processed in dishes, drinks, living things. More than that, coconut trees not only help to dissolve difficulties, but also do radiant for coconut land with the number of domestic and foreign tourists from thousands of miles away still known the very top geographical indications – Ben Tre Coconut
When refer to Ben Tre, everyone knows that it is the place of the vast coconut garden, the fresh green coconuts bring the characteristic delicious flavor.
Through many generations still devoted with coconut farming. Dedicated to cultivating and taking care of each coconut stool, farmers have devoted to coconut farming a persistent love, each coconut tree is taken care of by the devotion and understanding of the farmer in the hope of to bringing Ben Tre coconut to the world. Moreover, coconut farming is also a traditional profession encouraged to preserve in Ben Tre. Therefore, they have constantly updated new and effective farming methods, such as organic coconut farming.
The quality of ben tre coconut is evaluated much better than others by experts: "Thick coconut shells contain more organic matter, fatter coconut meat and sweeter coconut water."
III. Desiccated Coconut
Desiccated coconut is produced from the white part of fresh, mature coconut kernel. The white part is disintegrated or shredded into desired sizes such as flakes, granules, chips or shreds. Then it is dried in hot air at 50-55 degree centigrade. It is available in toasted, sweetened or sweetened toasted forms. It also comes in two variations such as low fat (maximum 50% fat) and high fat (minimum 60% fat).
Desiccated coconut is a coconut product that is prepared and preserved by removing the natural moisture in the coconut fruit. Desiccated coconut usually contains about 3% of moisture.
It is pure white in color, crisp, and has a fresh taste. It contains 68–72% oil and has a nitrogen content of around 1.05%. The chief protein is globulin, the sugar present is mainly sucrose (6–7%), and the crude fiber amounts to 4%.
Desiccated coconut is used commonly in various industries like confectionery and bakery products, frozen foods, food service and consumer products.
We, HBMfood provide a full range of Desiccated coconut qualities including full fat (high fat) or reduced fat (low fat), fine grade, medium grade, chips, shreds and so on. We can pack desiccated coconut in different sizes: 10kg, 11.34kg, 25kg, 50kg, 20lbs and 40lbs in multi-ply Kraft paper bags with inner sealed polythene bags under customer's various requirement of label designs as well.
IV. Packing and storage of desiccated coconut
Desiccated Coconuts are packed in multi-ply Kraft paper bags with inner sealed polythene to keep away from the atmosphere's moisture. Stored in cool and dry place. Avoid direct sunlight and strong odour.
V. Are you interested in private labeling?
Contact us, select your product and create your own private label.

You can choose from the following line: Dried products.

Make your products unique while respecting the environment: Choose your packaging with our different formats and 100% recyclable materials.

Our graphic team can assist you with the creation of your brand with a captivating and eye-catching packaging, which will help your business grow, while respecting the norms and regulations of your country.
VI. Grading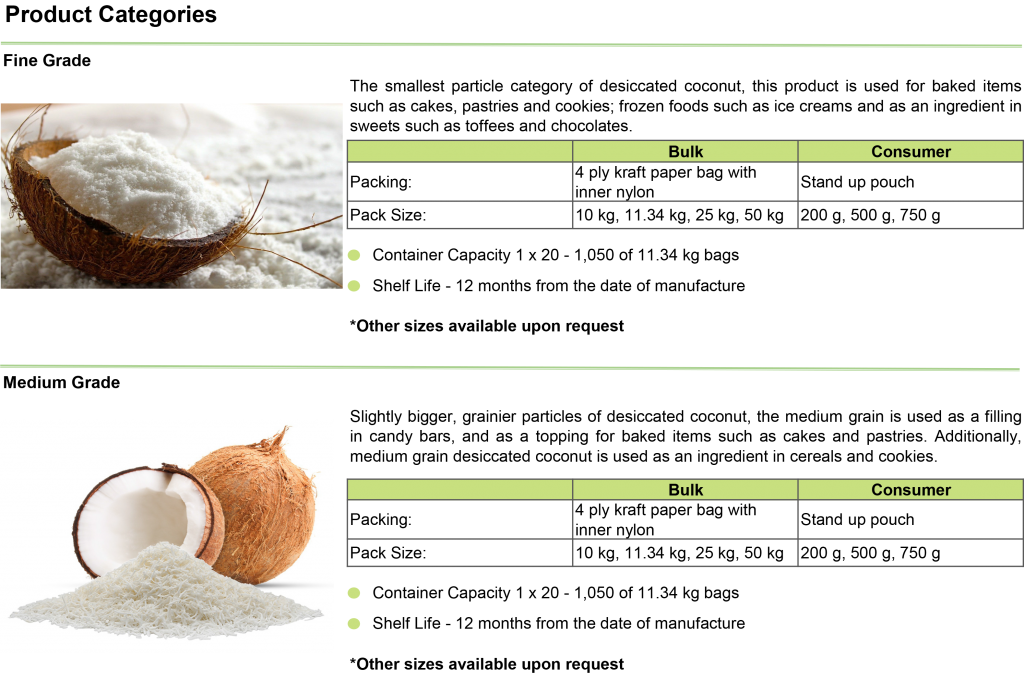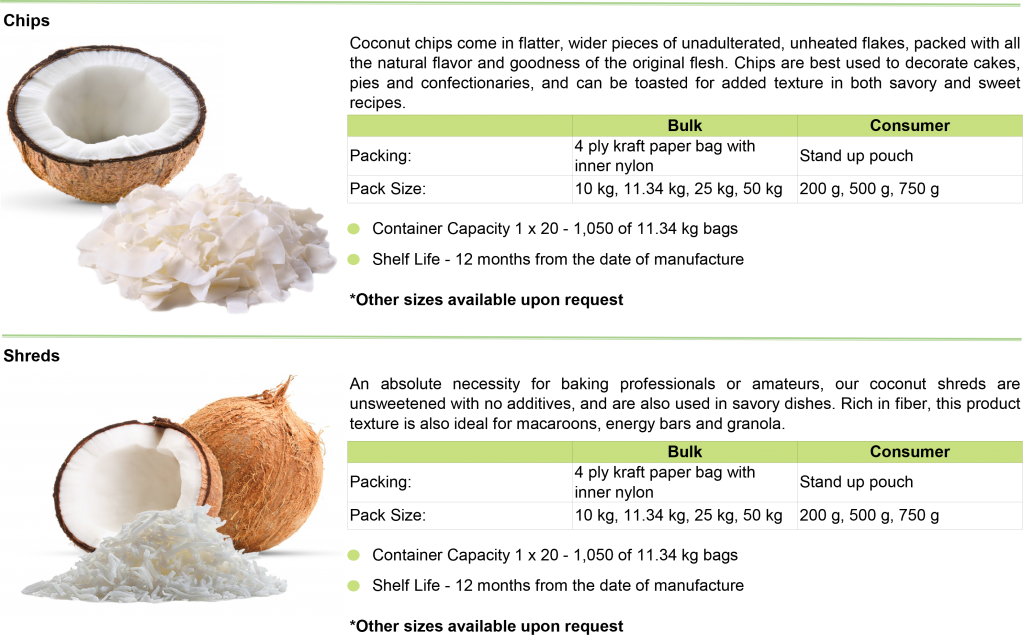 Fine –  size of particle is between 1.40 mm and 1.00 mm or if it is retained on 1.00 mm sieve.

Medium – size of particle is between 1.070 mm and 1.40 mm or if it is retained on 1.40 mm sieve.

Coarse (Shreds) – size of particle is more than 1.70 mm or if it passes through 1.70 mm sieve.