I. Introduction
Dried chilli, whether you call them dried chili peppers, dried chili, chillies, or dried peppers, are the stuff of magic. They provide a cornucopia of flavor profiles, from earthy, floral, fruity, and hot, to smoky and sweet. Professional and home chefs rely on a combination of the vast array of flavors with the heat range that chile peppers deliver. Sweeter, milder chiles often carry deeper flavors in their profile, while hotter peppers tend to have flavors that are delicate and floral. That is not written in stone, though, as peppers are bewitching things that can have different, subtle heat and flavor differences from one plant to another in the same field from where they grow. The heat of chiles is generally found in the seeds and the white membranous fibers that line their insides, which can be removed to lower the overall heat of any given pepper. It won't eliminate the heat entirely, though—a habanero or Carolina Reaper will still be hot, no matter how thoroughly you de-seed it—so make sure that a chile pepper has the heat level range that you're interested in working with when making your selections.
Chiles are the ultimate world travelers, and display an incredible willingness to adapt to new environments as they acclimate to them. There are more than 3,000 known varieties of chiles in the world today, and they all evolved out a common ancestor that originated in South America's Andes Mountain roughly 10,000 years ago. Progenitor peppers were carried up through the Amazon and the Orinoco Rivers, eventually making their way up into Mexico and then out to the Antilles and through the Caribbean. They were picked up there and taken back to Europe, transplanted to India, China and Southeast Asia and eventually brought back to the Americas. Along the way they have been incorporated into the cuisines of the cultures they encountered and have been shaped by human intervention and environmental impact. Today their popularity is global, and they can be found in foods from the United States to Australia and all points in between.
Our bulk wholesale chile selection is made up of more than 50 different types of chile peppers and chile pepper products, and run the gamut from whole pods to flakes and powders.  Our deep love for dried peppers keeps us going, and we're always searching for new sources and products in order to expand our selection (including organic chiles).
HBMfood is an deep processing enterprise of dried chilli, integrating the purchase,storage,processing and sale of chilli products. it is equiped with advanced production facility, integrated inspecting method, abundant researching capability as well as established distribution network and supplying many OEM brands in domestic market. In the foreign market, our products are exported to Japan, Korea, Germany, USA, Canada, Austrilia, New zealand and so on can meet the international standard.
Smoke and sear over heat, and then grind dried chili peppers for blends and rubs or reconstitute in water for salads, salsas, marinades, or pastes.
From mild to flaming hot, our selection of wholesale dried chili peppers are perfect for just about every application.
II. Storage Instructions & packing
Packing: PP, PE (net 1kg) or as buyer's request
Storage: Keep in cool, dry place away from direct sunlight.
Storage tips: Store dried chillies in an airtight container with dry-packs silica gel (food approved). Otherwise, pack them in a ziplock bag and store in a container filled with onions to absorb bacteria in the air that encourages mold growth on dried chillies.
III. Are you interested in private labeling?
Contact us, select your product and create your own private label.

You can choose from the following line: Spices & Seasoning.

Make your products unique while respecting the environment: choose your packaging with our different formats and 100% recyclable materials.

Our graphic team can assist you with the creation of your brand with a captivating and eye-catching packaging, which will help your business grow, while respecting the norms and regulations of your country.
Usage:
There are a few ways to use whole dried chiles:

Add to sauces, soups, and stews.

Rehydrate by soaking in warm water for about 20 minutes (but not longer or they can become bitter), then chop as desired.

Toast the chiles in a dry pan for added depth of flavor before grinding.
V. How to use or prepare
Step 1 of 4
Soak dried chillies in room temperature water until they soften. Rinse well. Tip: To make the dish less spicy, boil the dried chillies with a splash of vinegar and some salt instead of soaking them until soft. Then, remove the seeds and membranes of the dried chillies. Use rubber gloves when handling the dried chillies.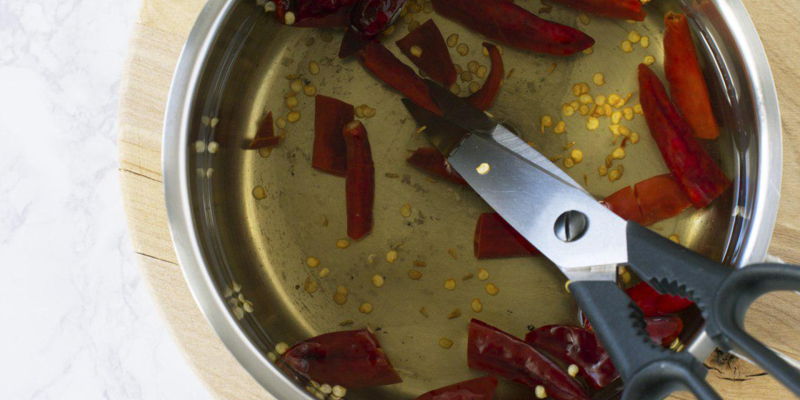 Step 2 of 4
When processing a large number of dried chillies for example, when cooking sambal, you do not need to soak the chillies. Boil them in a pot of water and a splash of vinegar or a piece of tamarind slice. Discard water and rinse chillies after boiling for 3-5 minutes. Optionally, boil the chillies again if the chillies are too spicy. Use a pair of scissors to roughly cut the dried chillies to remove the seeds.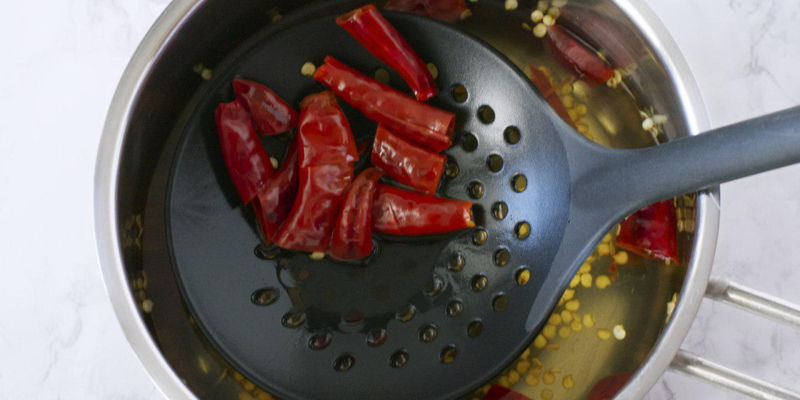 Step 3 of 4
Using a strainer with bigger holes, scoop out the boiled dried chillies. The seeds will sink to the bottom of the pot.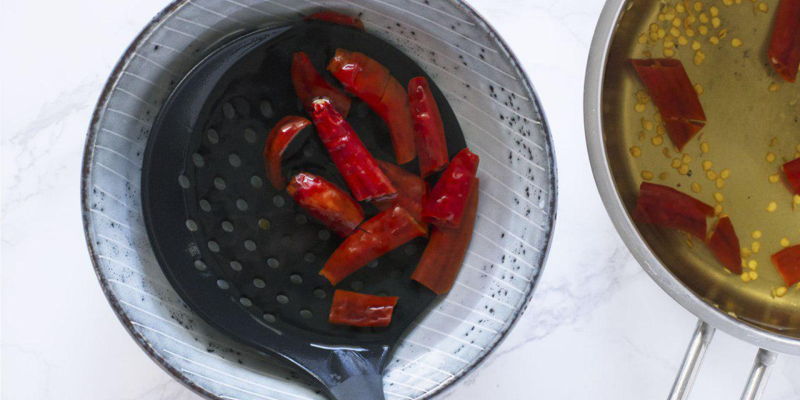 Step 4 of 4
Place the strainer/colander of boiled dried chillies in another bowl of clean water to further remove excess seeds.