I. What is the Star Anise? 
Star anise (Illicium verum) which is called star aniseed is the fruit of Illicium verum, native to Vietnam and China. star aniseed, obtained from the star-shaped pericarp of Illicium verum, a medium-sized native evergreen tree of northeast Vietnam ( Vietnam star anise is grown almost exclusively in Langson province) . Star anise is fruit as the name suggests, star shaped, radiating eight pointed boat-shaped sections and the essential oil resides in the pericarp. These hard sections are seed pods. Tough skinned and rust coloured, they measure up to 3cm (1-1/4") long. The fruits are harvested before they ripen, then sun dried.There are 2 crops of Star anise (spring and autumn). The dried fruits may contain 5 to 8% of essential oil, which domi­nated by anethole (85 to 90%). The other com­ponents, methylchavicol, phell­andrene, linalool, safrole and terpineol.
Vietnamses Star Anise 
Star anise (Vietnam Star Anise or Langson Star Anise) is the star shaped fruit of the illicium verum tree, which is native to Vietnam and China. In Vietnam it is predominantly grown by farmers from ethnic minority communities in northern highland areas, and is traded and consumed globally.The plant grows well in humus rich, mildly acidic to neutral soils, which are light to medium and having good drainage. It tolerates temperatures down to –10 degree C.  In different times and places it is variously a cash crop; a 'traditional' medicine; an ingredient in the Vietnamese national dish phở; an important seasoning for the increasing consumption of meat in Meal; a flavouring in French colonial-era liqueours and 'Oriental' cuisine, and a source of the active ingredient in the anti-influenza drug Tamiflu.
II. Harvest time/Crop
2.1/ Vietnam Star Anise autumn crop 
In September, harvest flowers starting in September and lasts until the end of October each year.  When the weather began to turn to dry, the star anise cultivating families in Lang Son prospered during the harvest season of the star anise – a specialty famous for its good essential oils, characteristic aroma.
This crop gives more fruits, attar is also better than the later one. After picking the fruit is dried under a temperature from 30 to 40 Celsius degree. Its colour then changes from red brown to dark brown, forming star-shapes and exposing shiny yellow brown seeds.
2.2/ Vietnam Star Anise spring crop 
in March, harvest starting in March and until of April. Spring crop Star anise is not better than Autumn crop. Star shaped smaller size than Autumn crop even some star shaped not open but still eight points, a seed in each point.
Star anise's flavor is distinct, sweet and aniseed like with a fresh, pleasing after taste. True to its name, star anise has a fennel and liquor ice-like aroma.
We, HBMfood offers a  high quality star anise powder, dried star aniseeds are carefully selected with appearance clean, no mound, no fungus, featured aroma, natural color before processing. The stages of the production process are strictly controlled by the ISO 22000: 2005, HACCP (Hazard Analysis and Critical Control Points) System, to provide clean, packaged Star Anise products. Carefully have high nutritional value, both convenience and safety for the health of consumers.
2.3/ Storage Instructions & packing
Packing: PP, PE (net 20 – 30kgs) or as buyer's request
Storage: Keep in cool, dry place away from direct sunlight.
III. Are you interested in private labeling?
Contact us, select your product and create your own private label.

You can choose from the following line: Spices & Seasonings.

Make your products unique while respecting the environment: Choose your packaging with our different formats and 100% recyclable materials.

Our graphic team can assist you with the creation of your brand with a captivating and eye-catching packaging, which will help your business grow, while respecting the norms and regulations of your country.
IV. Specification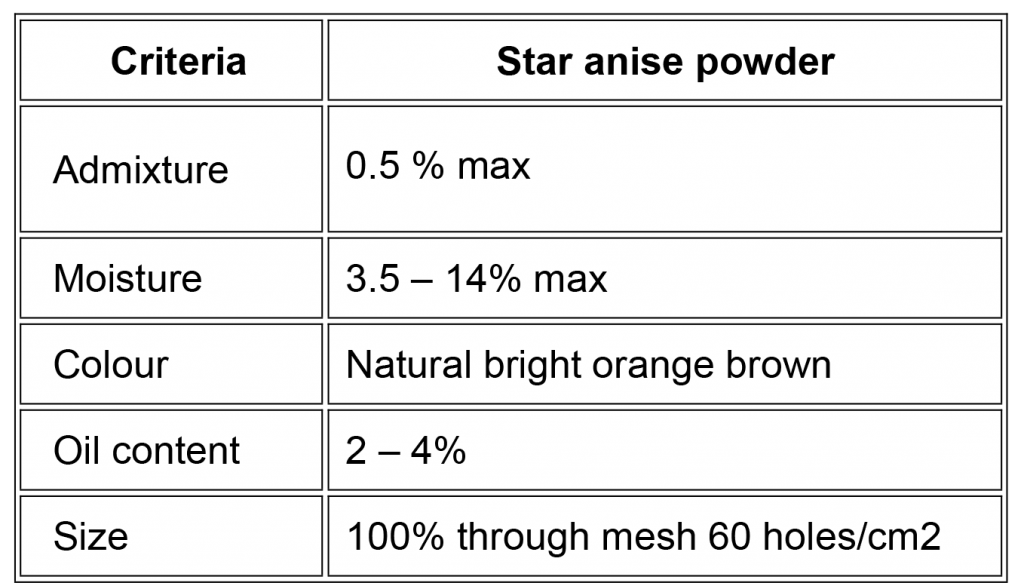 Packing: 25Kg, 50kg/PP + PE bag or

as buyer's request
Place of Origin: Lang Son, Vietnam
Supply period: all year round
Used for cooking and medicine, food and confectionery.
Star anise is a pretty star shaped spice which is used predominantly Asian cooking. The spice can be used as either whole pods or the pods can be broken into pieces or ground.
Star anise is an essential ingredient in many Chinese, Vietnamese, Indonesian and Indian dishes. It is one of the spices that combine to make Chinese five spice powder and whole pods are used in pho, a Vietnamese noodle soup. Star anise pairs with chicken, eggs, fish, figs, tropical fruit, soy sauce, leek, pork, pumpkin and root vegetables. It also combines well with chili, cinnamon, coriander seeds, fennel seeds, garlic, ginger and lemongrass.
Flavor :
Star anise's flavor is distinct, sweet and aniseed-like with a fresh, pleasing aftertaste.
True to its name, star anise has a fennel and liquorice-like aroma.
Here are some tips for maximising the shelf life of your spices:
• Store in an airtight container.
• Store in a cool, dark cupboard.
• Store away from direct heat or sunlight.
• Keep lid tightly closed when not in use.